Have a variety of baking tins to meet the needs of your different clients.This n0n stick bake-ware set consists of heart shaped,circular and rectangular baking tins.These baking tins are non stick and rust-poof.Get yours at Martichen Households and get it delivered to your doorstep.
Bake cakes, tarts, and other yummy desserts in this Springfoam Baking Set of three molds. The nonstick coating offers a quick release after baking and makes cleanup a simple affair. This set of three pans nest together for storage when not in use and are dishwasher safe, further hastening the cleaning process. It helps you bake your favorite food to perfection without putting in much effort. The three molds are shaped in the form of a heart, square, and circle, so you can get creative with your sweet spread.
Bake to Your Hearts Content
Convenience of Use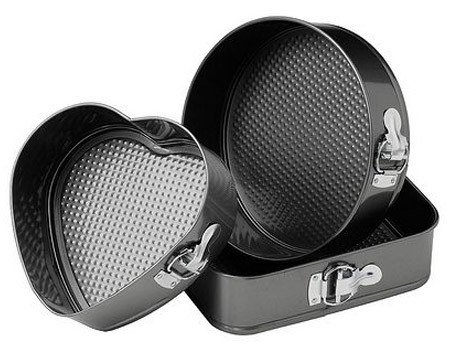 BAKE TO YOUR HEARTS CONTENT
This Springfoam Baking Pan set of 3 molds are available in three different sizes to provide you with a more diverse choice. It has been designed to feature a waffle bottom that ensures an effortless release while transferring onto a serving plate. Moreover, its side locks securely hold together cakes or desserts and facilitate smooth release that won't require you to prise, bang or gauge the contents out.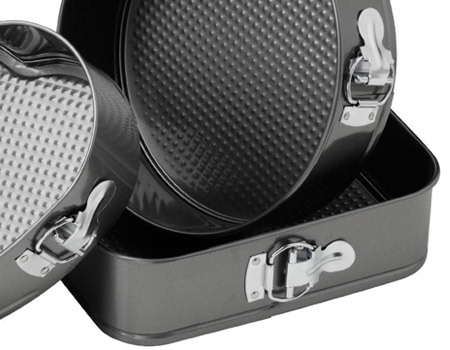 CONVENIENCE OF USE
This stainless steel baking dish set is perfect for your baking needs. This set includes a 27cm round, 25cm square, and 23cm heart shaped pan. They cradle together for easy storage. Moreover, all Springform pans are nonstick and dishwasher safe for easy cleaning.